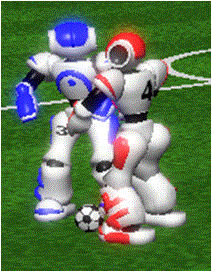 Overview
This project aims at integrating robotics as an eternal component of the CS program at IBA and provides students an opportunity to enhance their CS/Engineering skills and test their imagination by working on challenging but fun robotics problems. The following activities are currently under way:
AI Lab has partnered with Innovation & Enterprise Research Lab at University of Technology Sydney (UTS) to create a joint RoboCup Soccer team under 3D Simulation League. The team, Karachi Koalas , has participated in 2011 and 2012 World RoboCups that were held in Turkey and Mexico, respectively. In 2011, we ended up in the top 16 group while in 2012 we ended up in the top 10 group. More details about this exciting development are available on Karachi Koalas' website .


A series of robotics workshops, titled Robo Working using Lego , have been initiated for high school students. In a very short time, the workshops have becomes extremely popular among high school students and are helping in creating awareness and interest in robotics among a wide range of audience. The details of the workshop are available on our Facebook page


A course, titled Introduction to Game Proramming and Robotics , has been designed and introduced in the BS(CS) program at IBA. Students work on different programming languages to design and control robots to perform various tasks intelligently with the help of its sensors. They also participate in several competitions including maze solving, sumo wrestling and battel royal. For more information, please check the Photos and Videos sections.